Retreats
Kallara Retreat – view from Strathbogie ranges
"Stay in your body. The silence is in your body. It's not out there. It's in your body. Stay in your body, and you'll be surprised what happens. To really become immersed in the silence, you need to free your body – purify your body of the past. Only then will there be silence. And that silence is overwhelming, it's indescribably beautiful. You don't come in and out of it – it's always there. It's all one. There's no two. It's all one."
– Linda Clair
RETREATS IN 2017
*
*unless otherwise specified, all prices are in Australian dollars. Photo credit: greataussiewalks.com.au – A view from the Pichi Richi ranges towards Quorn
See Cancellation Policy and bookings info for current retreats. Some retreats also have a Frequently Asked Questions page.
Some small retreat venues take limited numbers. A waiting list is then offered.
---
SPAIN, 12–16 OCTOBER, 5-DAY RETREAT 2017
Thur 12th – Mon 16th October 2017, 5-Day retreat
Cordoba, Spain
A 5-Day silent meditation retreat with LINDA CLAIR
This 5-day Silent Meditation Retreat will be held at the Betania casa de espiritualidad (Betania house of spirituality), in the historic city of Cordoba, Southern Spain (about 1 hour 40 minutes by train from Madrid).
The retreat will start at 9.30am Thursday 12th October and finish at 5.30pm Monday 16th October. 
Retreat Schedule
Thursday 12th October 9.30am – 9pm (arrive by 9am)
Friday 13th October 6.30am – 9pm
Saturday 14th October 6.30am–9pm
Sunday 15th October 6.30am–9pm
Monday 16th October 6.30am–5.30pm
retreat schedule pdf
COST
Residential, 495 € (Euros) (includes all meals, teaching and accommodation for 4 nights at Betania).
Non-residential, 395 € (Euros) for 5 days, includes teaching, lunch and supper.
ACCOMMODATION AND FOOD
Accommodation is very comfortable and simple. Single rooms are available for each participant, and each room has its own bathroom. Food will be simple vegetarian, with vegan options available.
It may be possible to stay a night before and after retreat. We will post details when we have more information.
WHAT TO BRING
Please bring your own meditation cushions or stools. Chairs will be available for those who like to alternate their sitting or prefer not to sit on the floor. The day's schedule will include an evening meditation.
REGISTRATION and PAYMENT
Register for the 5-Day Spain Retreat 2017  Retreat code: Spain Oct
It will be helpful if you can email Lara at bookings@simplemeditation.net when you have made a payment. Thanks.
Australia – Retreat participants from Australia can pay in Australian dollars by direct deposit. When you have submitted the registration form contact Lara at bookings@simplemeditation.net for payment details.
Rest of the World, incl Australia – Retreat participants can pay with PayPal in euros.
Venue: Betania casa de espiritualidad, Calle Villanueva de Cordoba, 16. 14012 Cordoba Spain.
Retreat Enquiries (English speakers): please email bookings@simplemeditation.net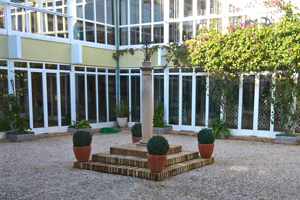 ---
ESPAÑA. RETIRO DE 5 DÍAS EN OCTUBRE de 2017
Jueves 12 a lunes 16 de octubre de 2017. Retiro de 5 días
Cordoba, España
Retiro de meditación de 5 días con LINDA CLAIR
Betania casa de espiritualidad. Este retiro de meditación en silencio tendrá lugar en Betania Casa de Espiritualidad en la histórica ciudad de Córdoba, en el sur de España (aproximadamente 1hora y 40 minutos de Madrid en tren).
El retiro empezará a las 9:30 de la mañana el jueves 12 de octubre y terminará el lunes 16 de octubre a las 5:30 de la tarde.
Horario del retiro
Jueves 12 de octubre 9:30 am – 9 pm (Llegar a las 9 am)
Viernes 13 de octubre 6:30 am – 9 pm
Sábado 14 de octubre 6:30 am – 9 pm
Domingo 15 de octubre 6:30 am – 9 pm
Lunes 16 de octubre 6:30 am – 5:30 pm
PRECIO
Residentes: 495 € (incluye todas las comidas y alojamiento de 4 noches en Betania)
No residentes: 395 € por 5 días. Incluye enseñanza, almuerzo y cena.
ALOJAMIENTO Y COMIDA
El alojamiento es muy cómodo y simple. Hay habitaciones individuales disponibles para todos, y cada habitación tiene su propio cuarto de baño. La comida será simple, vegetariana, y habrá opción para veganos.
CANCELACIONES Y REEMBOLSOS
Retiro de 5 días, España del 12 al 16 de octubre de 2017
En el momento de la inscripción para el retiro se requiere un depósito de 100 € o el pago completo.
CANCELACIONES
– Las cancelaciones efectuadas hasta el 21 de septiembre incluído (3 semanas antes) incurrirán en un cargo de 100 €
– Quienes cancelen su inscripción entre el 22 de septiembre y 2 días antes del retiro recibirán un reembolso del 50%
– No habrá reembolso en caso de no asistencia o cancelación el día previo.
Lugar: Betania casa de espiritualidad. Calle Villanueva de Córdoba, 16. 14012 Córdoba
Consultas sobre el retiro: email a bookings@simplemeditation.net
REGISTRO
Información sobre el retiro (en español)
Porfavor, contactar con:
Paco:  f-prior@hotmail.com 34 957042895 y 34 600551813
Rafael: rafaeru@yahoo.com 34 957084555 y 34 670362968
Please complete registration by Thursday 21 September, 2017 {3 weeks before)
---
Posted in
Retreat
Comments Off

on Spain 12–16 October, 5-Day Retreat 2017